I'm so happy you like the star diy I did a couple of days ago. Thumbs up for you! Today I'll show you some more variants on that star. On the first one I made the bottom point longer than the others. On the second star I made a hole on the top off the star so that I can hang it. The pattern on the paper I printed out from sxc.
/// Vad roligt att ni gillade mitt stjärn diy som jag visade för några dagar sedan. Tummen upp för er och era glada tillrop! Idag tänkte jag visa er fler varianter på den stjärnan. På första stjärnan har jag gjort nedersta spetsen längre än de andra. På andra stjärnan har jag gjort ett litet hål på toppen av en spets, för att kunna hänga upp stjärnan. Mönstret till den har jag skrivit ut på sxc.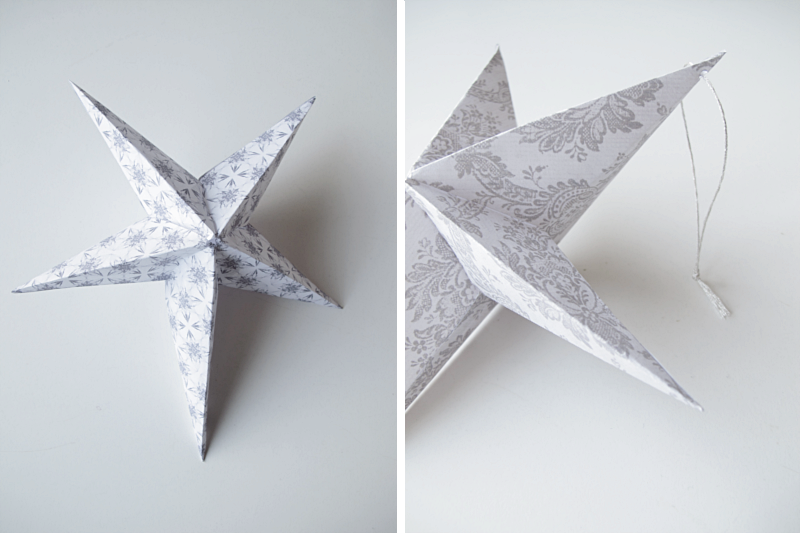 In the picture with two stars the star in the back has six points instead of five. And on the one in the front I cut a pattern on every point using a pair of scissors. On the last star I made a pattern with tiny holes. Put a led light inside the star and it becomes a beautiful christmas star.
/// På bilden med två stjärnor har den bakre sex stycken spetsar istället för fem. På den främre stjärnan har jag klippt ett mönster på varje spets. Och på sista stjärnan har jag gjort ett hålmönster. Blir jättefint att sätta fast en liten ledlampa inuti.
Do have any more variants on the star so please share them!
/// Kommer ni på fler varianter på stjärnan så får ni gärna dela med er!