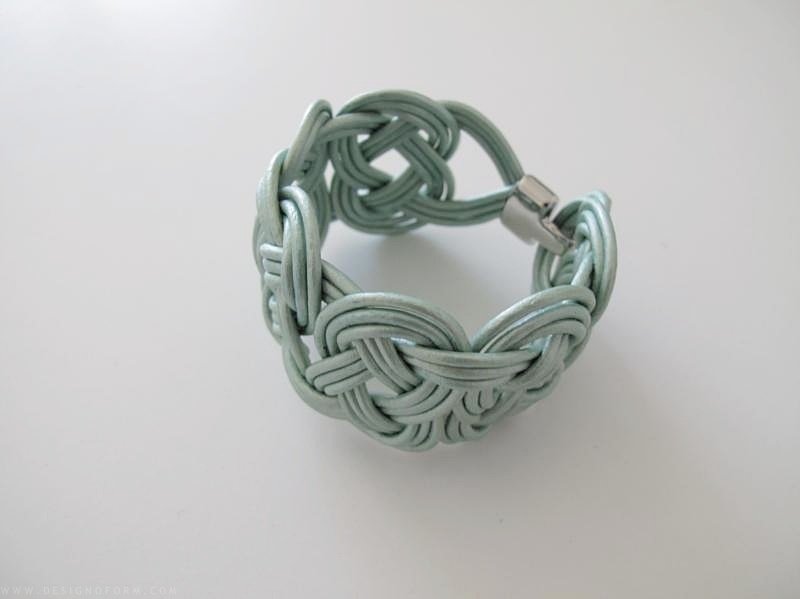 Time to make a braided bracelet. In this tutorial I used one thick thread, because it is easier to show what I am doing that way. But once you have the hang on the technique, you can use three thinner leather threads to get one that looks like the picture above. I used three threads, 2mm thick and about 1.65 m long. But make it a little bit longer just to be on the safe side.
/// Nu ska jag visa er hur man gör ett flätat armband. Jag har här använt ett tjockt snöre, för att det är enklare att visa vad jag gör. Men sen när ni har fått kläm på tekniken så kan ni använda tre stycken tunnare lädersnören. Då kommer armbandet se ut som på bilden ovan. Jag använde tre snören som var 2mm tjocka och ungefär 1.65 m långa. Men gör det lite längre bara för att vara på den säkra sidan.
Start by finding the middle of your thread and  mark it with a piece of tape. Then take the thread to the right and make a bubble under the left thread. Then take the left thread and slide it under and over the bubble. See the pictures. When you´re finished pull the ends. You might have to adjust the thread as you go. This is part one.
/// Börja med att hitta mitten på ditt snöre och tejpa fast den på bordet. Sedan tar du tråden till höger och gör en bubbla under den vänstra tråden. Ta sedan den vänstra änden och trä den under och över bubblan. Se bilderna. När du gjort det klart, så dra i de båda ändarna. Du kommer nog att behöva justera lite eftersom. Detta är del 1.

Now it´s time for part two. Make a bubble under the right thread using the left one. Then take the right thread and go under and over the bubble. Once again see pictures. And when you´re done. Pull the ends.
/// Nu är det dags för del 2. Använd den vänstra tråden och gör en ny bubbla under den högra. Ta sedan den högra änden och trä den under och över bubblan. Åter igen se bilderna. Och när du är klar. Dra i ändarna.

Then start over with part one again, and then part two. Make six or seven parts, depending on how wide your wrist is, then cut the threads off, and glue them on the lock. And you are done!
/// Och så börjar du om med del 1 igen och sedan del 2. Varva tills du har 6 eller 7 delar beroende på hur bred handled du har. När du har gjort så många du behöver, klipp av ändarna och limma fast dem i låset. Klart!