Another week gone by and it's time for another Weekly list. First up is Niki Brantmark's Malmö city guide, with her favorite places to eat, drink and shop while visiting the city. (Malmö is Sweden's third largest city located almost as far south as you can get in Sweden without wading in the Baltic Sea.) Suddenly I feel an urge to visit Malmö.
/// Ännu en vecka har passerat och det är dags för en ny Weekly Wonders. Först ut är Niki Brantmark's city guide över Malmö där hon listar sina favoritställen att äta, dricka och shoppa.  Jag har faktiskt aldrig varit i Malmö, men nu vill jag genast göra ett besök.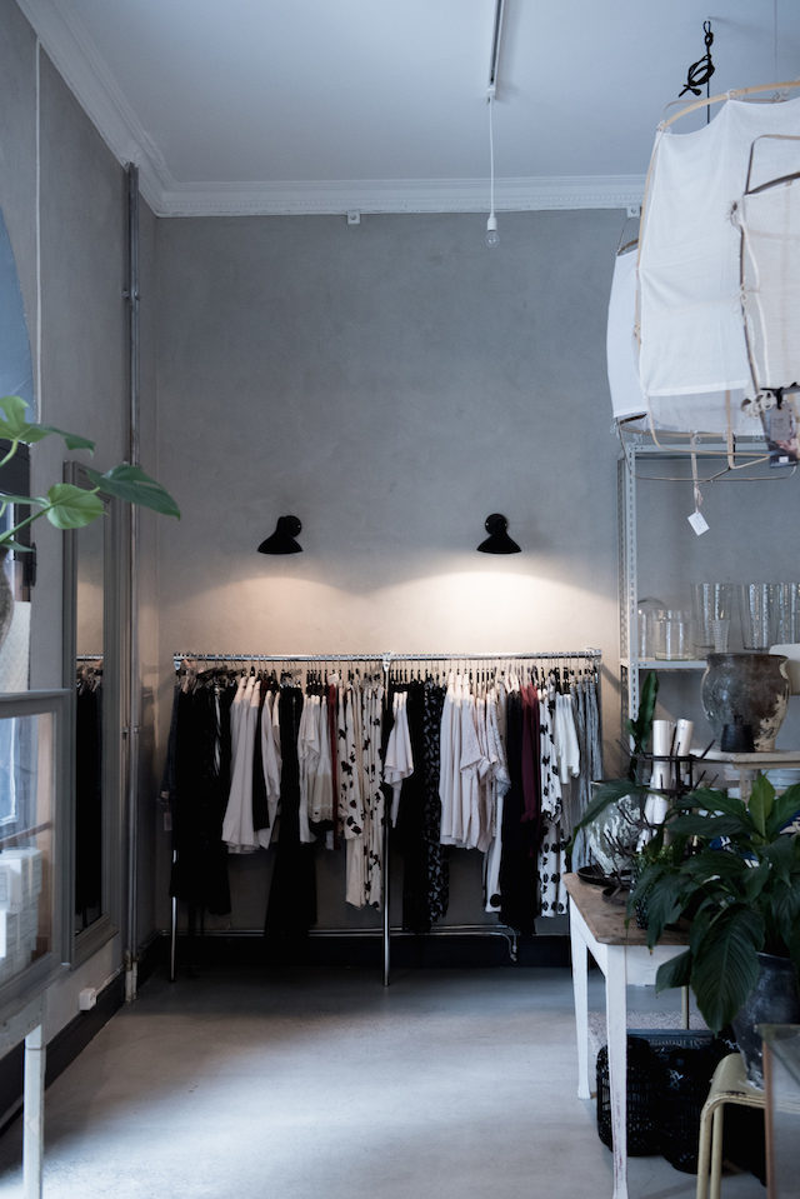 Miloii- My scandinavian home/ Valentina Fussell
I saw this picture a while ago, and I bookmarked it because I liked every single poster on that wall, along with the wallhangings, the cupboard, the plants…. Yesterday I found out it's from Maaike Koster's home and studio, and all the posters are from her shop My deer art shop!
/// Den här bilden såg jag för ett tag sen och bokmärkte den för jag gillade varenda tavla på bilden. Ja och väggbonaderna och skåpet och växterna förstås… Igår fick jag reda på att bilden är från Maaike Koster's hem och studio och att tavlorna finns att köpa från hennes shop My deer art shop!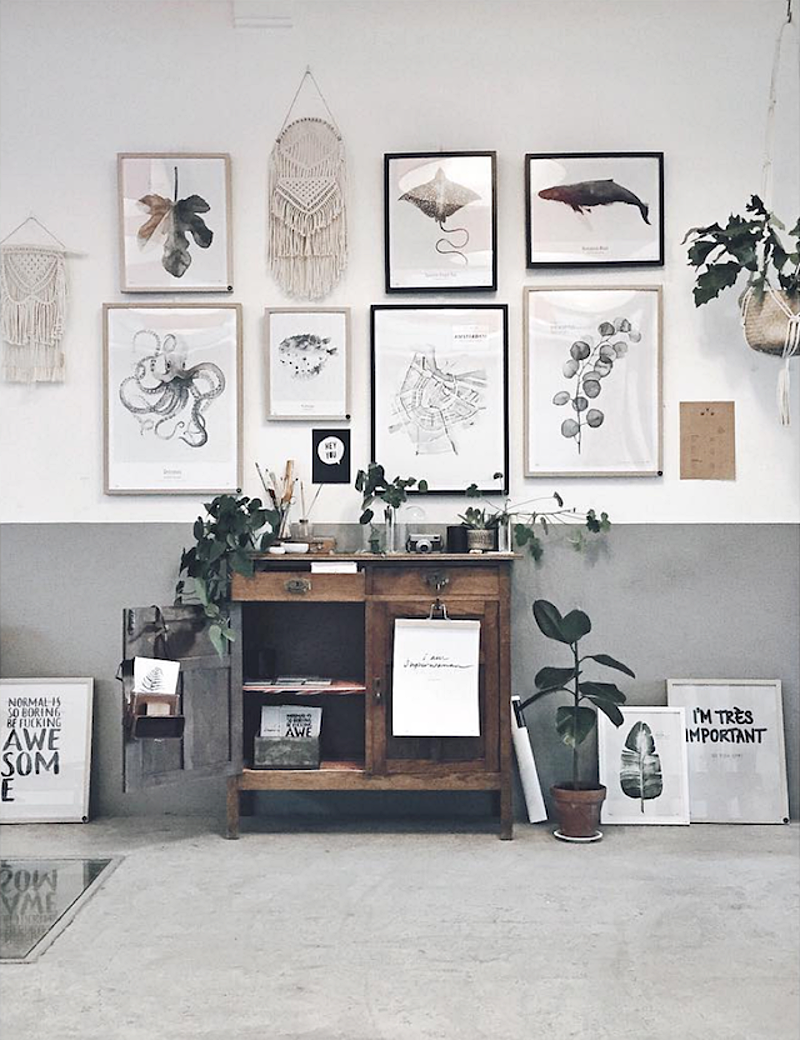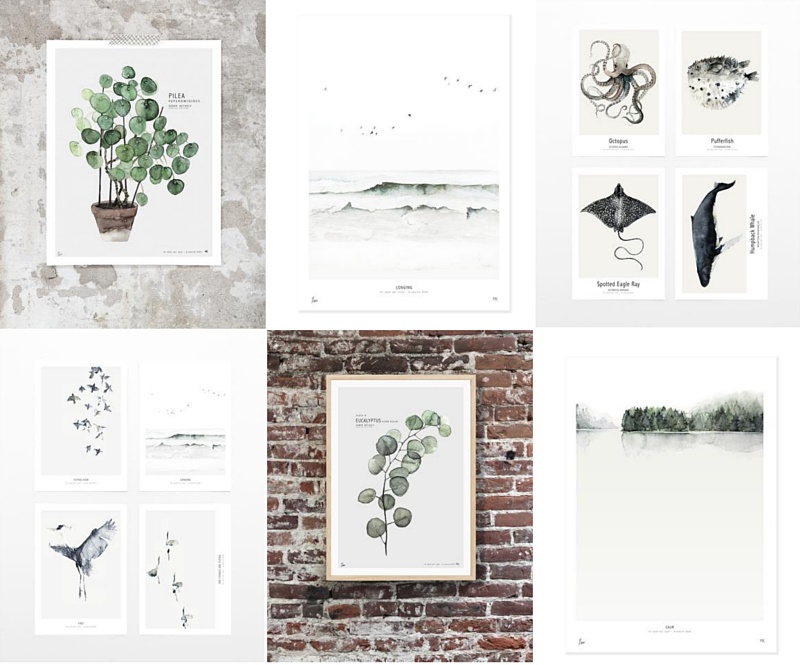 My deer art shop – Maaike Koster
And a few items I been eyeing this week.. 1. The book "Perfect Imperfect – The Beauty of Accident, Age & Patina"
by Karen McCartney, Sharyn Cairns and Glen Proebstel. I've google it and what I've seen so far I like 2. Table Billie. I' ve been looking for a small, high, table that doesn't feel "heavy" and this might be it. 3,6 News from Lagerhaus. Mortar and rolling pin in black marble. I really like that rolling pin. Oh if I only were a baker. 4. H&M are having a sale on these velvet pillow cases, and I have a few in my online basket 5. Have you smelled the hand balm Incense Lavender by Compagnie de Provence? It smells soo good. 7. When I was at H&M the other day I saw this globe-shaped box of metal, and I have never really been a fan of the whole copper, gold, brass trend, but this one I really like. And I actually thinking of buying it.
/// Här är några saker som jag haft ögonen på den senaste veckan. 1. Boken "Perfect Imperfect – The Beauty of Accident, Age & Patina" av Karen McCartney, Sharyn Cairns och Glen Proebstel. Jag har googlat runt lite och från vad jag har sett än så länge så gillar jag den. 2. Bordet Billie. Jag har letat efter ett litet högt bord som inte känns "tungt" ett tag nu, och det här kanske kan vara något. 3,6 Nyheter från Lagerhaus. Mortel och kavel i svart marmor. Jag gillar verkligen kaveln, och oj vad jag önskar att jag gillade att baka. 4. H&M har rea på dessa sammetskuddar, och jag funderar på att klicka hem några grå och kanske, kanske en senapsgul. 5. Har ni luktat på handkrämen Incense Lavender från Compagnie de Provence? Oj vad en luktar gott! 7. När jag var förbi H&M senast så såg jag denna lilla metallask och även om jag aldrig riktigt fastnat för koppar, guld, mässingstrenden så gillar jag verkligen denna. 
And  to end this weeks list it feels like it would be a crime not to mention Pokemon Go. What? In one week everyone are running around trying to "catch them all". If you have no clue what it is, it already has a wiki-page where you can read more. Crazy! Just remember not to "Pokemon Go and drive" ;). Have a great weekend!
/// Och som avslutning på denna vecka så måste jag ju bara nämna Pokemon Go. Vad hände? På en vecka är alla ute och springer och försöker att "fånga dem allihop" (även om appen inte officiellt släppts i Sverige än). Har du ingen aning om vad detta är, så finns det redan en wikipedia-sida med allt du behöver veta. Helt galet! Ha en trevlig helg iallafall!