This apartment feels a lot like Artilleriet for me. Another feeling I get is that is is tooo "right", too styled, with a lot of bloggers wishlist items. Do you know what I mean? Even though I get that feeling there is  still alot of things that I like about it. The wall color in the livingroom for example.
/// Den här lägenheten till salu via Entrance mäkleri känns väldigt mycket Artilleriet för mig. En annan känsla jag får är att den känns liite för perfekt, lite för rätt, när den har så många saker från bloggarnas wishlists. Förstår ni hur jag menar? Även om jag nu får den känslan så finns det mycket fint som jag gillar ändå. Väggfärgen i vardagsrummet till exempel.
I also like the big plants, the low bench and that the room feels like it is planned for spending time together and not just for watching tv.
/// Jag gillar också de stora växterna, den låga bänken och att rummet känns som det är möblerat för att man ska umgås inte bara efter en tv/tv tittande.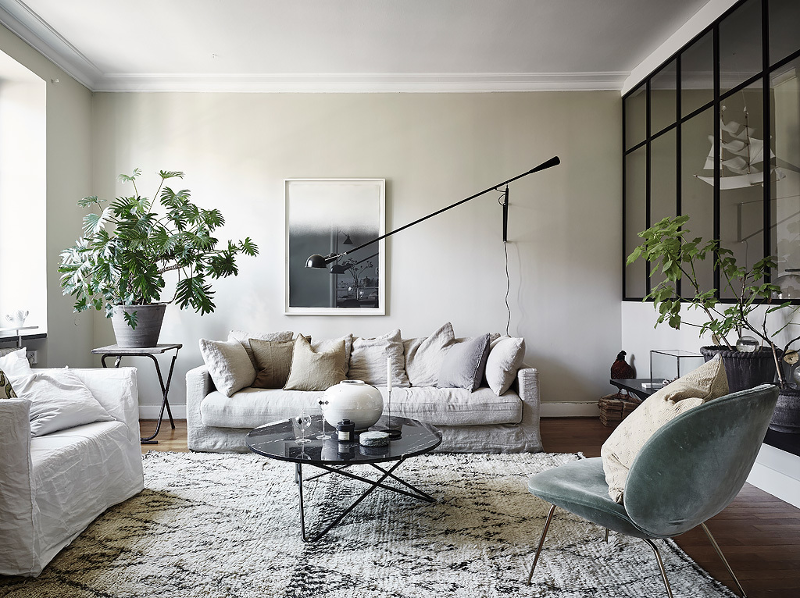 Oh that big window!
/// Det stora fönstret!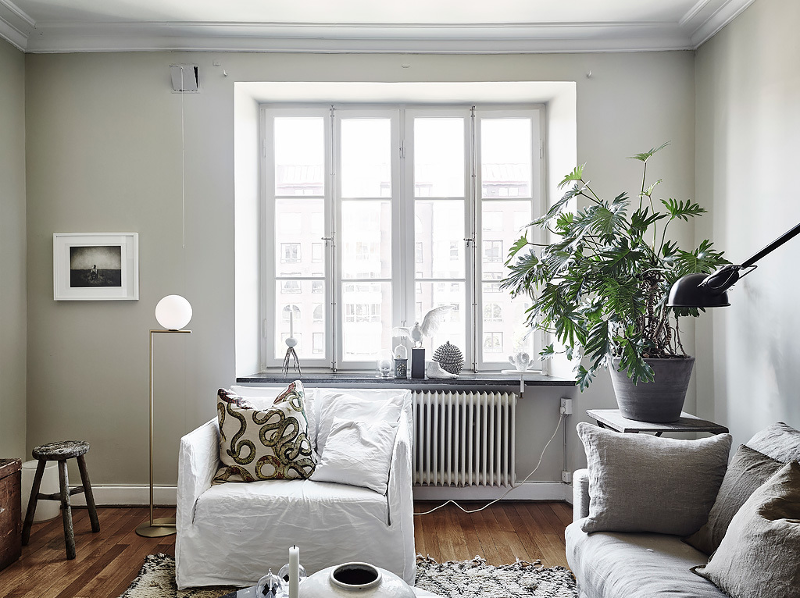 I also like that the sofa and the wall almost have the same color. Even though I would have mixed the pillows with some in an another material.
/// Att soffan och väggfärgen går ton i ton var väldigt fint tycker jag. Även om jag hade valt att blanda ut kuddarna med några i ett annat material än linne.
Next is the bedroom. I like that the chair gives a bit of color. And not too surprising it's a autumn mustard and in velvet.
/// Vidare till sovrummet. Här gillar jag att man valt lite färg i och med stolen. Och kanske inte så oväntat med en höstig senapsgul färg, och i sammet.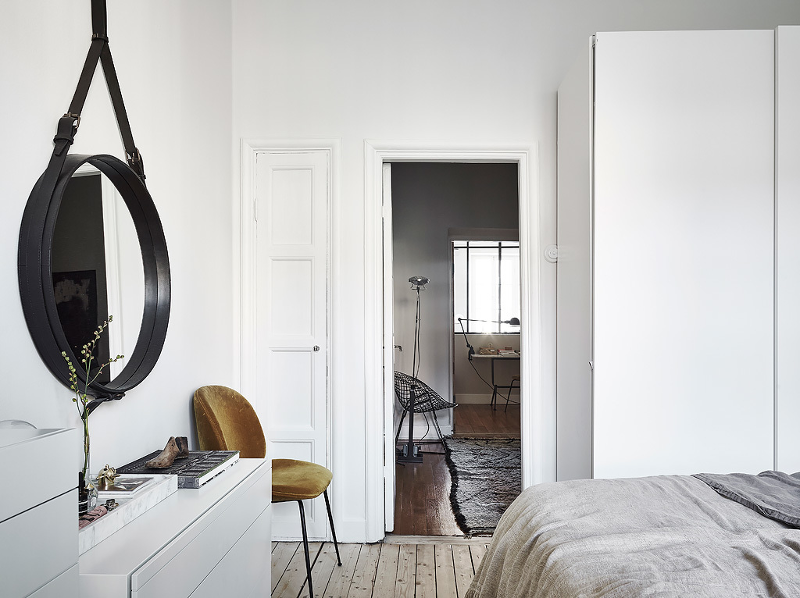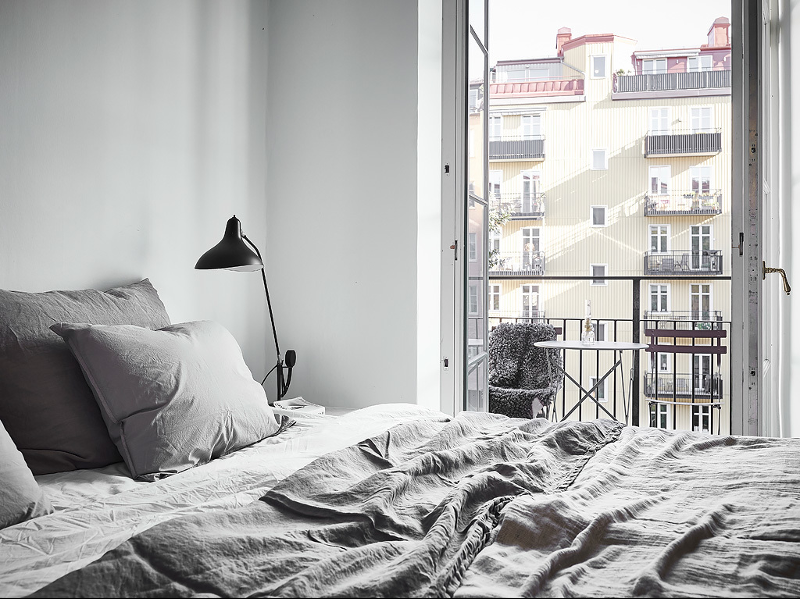 You can't talk about the workspace and not mention the window. Here I also like the mix of different materials: velvet, marble, steel, and rattan. Collecting all the russian dolls under one bell jar is an idea I'm going to steal right away.
/// Arbetsrummet kan man ju inte prata om utan att nämna glaspartiet. Här gillar jag också blandningen av olika material: sammet, marmor, stål och rotting. Att samla alla små ryska dockor under en glaskupa är en idé jag kommer att stjäla rakt av.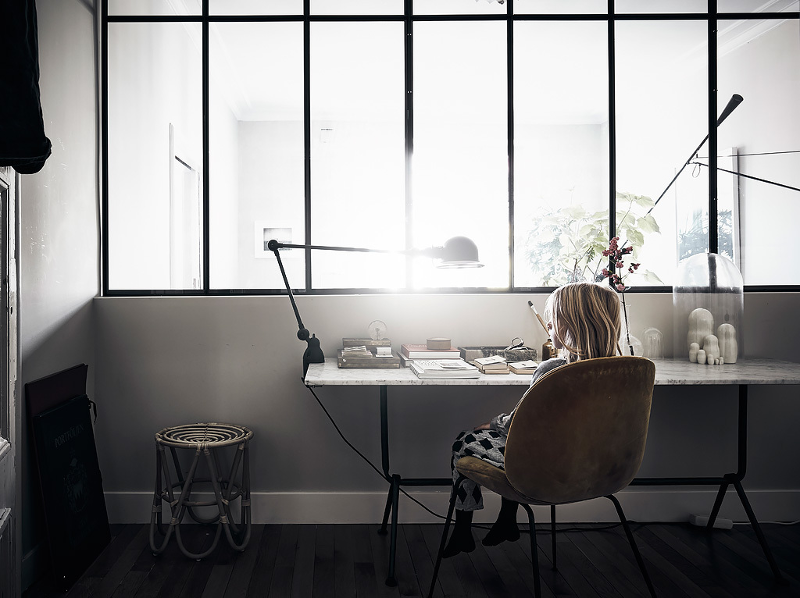 And finally the hallway. I don't know how practical it is with a big hairy white rug in a hallway, but it sure gives a homey feeling to the place.
/// Avslutningsvis hallen. Jag vet inte riktigt hur praktiskt det är med en stor lurvig, vit matta i en hall men det ger onekligen en ombonad känsla.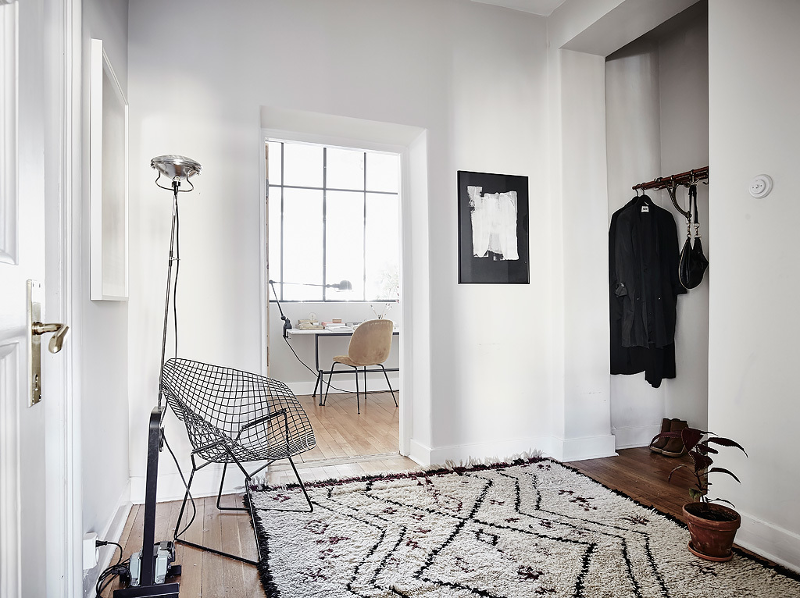 fo: entrance mäkleri | Anders Bergstedt